Natural Citrus Fresh Linen Spray
Combining Orange, Tangerine, Grapefruit, Lemon, and Mandarin oils with a hint of Spearmint, Citrus Fresh™ Essential Oil is a proprietary Young Living blend that offers an uplifting, refreshing aroma that you can diffuse to transform home, work, and classroom spaces.
Citrus Fresh oil is a perfect replacement for chemical-based home fragrances—just combine a few drops with distilled water in a spray bottle and spritz throughout rooms and closets and over linens. You'll enjoy the uplifting citrusy scent every time you make the bed or open a closet door. Looking for a little extra citrus boost? Dilute with V-6™ Vegetable Oil Complex and use it as cologne or perfume! Plus, using Citrus Fresh topically comes with the bonus benefit of the citrus oils working together to tone and smooth the appearance of skin.
Citrus Fresh essential oil uses:
Dilute Citrus Fresh essential oil in a 1:1 ratio with your favorite night moisturizer and apply to skin for smoother-looking, more radiant-looking skin. Because some citrus oils can cause photosensitivity, avoid applying to exposed skin before spending time outside.
Dilute Citrus Fresh essential oil in a 1:1 ratio with V-6 Vegetable Oil Complex and use it as an uplifting signature scent.
Diffuse Citrus Fresh in your home, office, or classroom for an aroma that invites positivity and energy.
Drop Citrus Fresh onto cotton balls and toss them anywhere prone to stale odors, like shoes, closets, cabinets, basements, and vents.
Ingredients
Citrus aurantium dulcis† (Orange) peel oil, Citrus reticulata† (Tangerine) peel oil, Citrus paradisi† (Grapefruit) peel oil, Citrus limon† (Lemon) peel oil, Citrus nobilis† (Mandarin orange) peel oil, Mentha spicata† (Spearmint) leaf extract
†100% pure, therapeutic-grade essential oil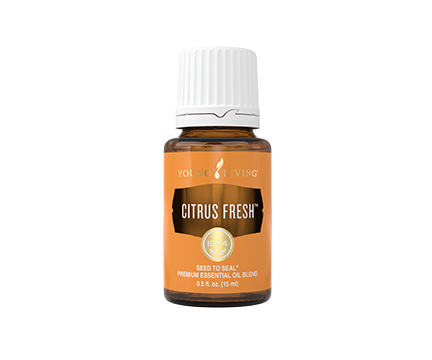 Citrus Fresh Linen Spray
This essential oil blend of citrus and peppermint is cleansing and refreshing for your indoor rooms as well as people in your home.
Special Equipment: 8 oz. glass bottle
Ingredients:
15 to 20 Citrus Fresh essential oil
1 teaspoon witch hazel order here (or vodka)
8 oz. distilled water
Instructions:
Pour the witch hazel, drop in the oils and add the distilled water until the bottle is almost full. Replace the cap and shake the bottle vigorously before each use. Spray on any smelly fabric or in the air to impart a clean and natural scent.