Best Essential Oils for Supporting Thyroid Health
The thyroid gland is a butterfly shaped gland near the base of the neck that heavily influences metabolic functions including energy, muscle tone and body temperature and of course weight management. There are many factors that affect how well the thyroid functions and it can be supported with a nutrient dense diet such as Paleo or a well formulated low carb plan that removes most inflammatory foods that many people can have a sensitivity reaction to after eating.
Also stress and sleep can play a big factor in thyroid health but are often overlooked factors that need attention. Essential oils can help the body function optimally through hectic, modern day life. Essential oils can reinforce good moods, bolster the digestive system and support immunity, all of which can be crucial for healthy thyroid maintenance.
Being a woman and as well as family history are considerations when checking if your thyroid is humming along or not. Essential oils have really helped me on my health journey to insure that I have a lot of stamina and vitality for my busy days of being a blogger, author and wife. Read more of my journey here.
Young Living makes several supplement and essential oils that support thyroid health. I have been using them for over two years to keep myself above the wellness line. Order here
Thyromin™ is a special blend of porcine glandular extracts, herbs, amino acids, minerals, and therapeutic-grade essential oils in a perfectly balanced formula that maximizes nutritional support for healthy thyroid function.* The thyroid gland regulates body metabolism, energy, and body temperature. If you have tested positive for thyroid antibodies then talk to your doctor about if you should add iodine to your regimen.
Ingredients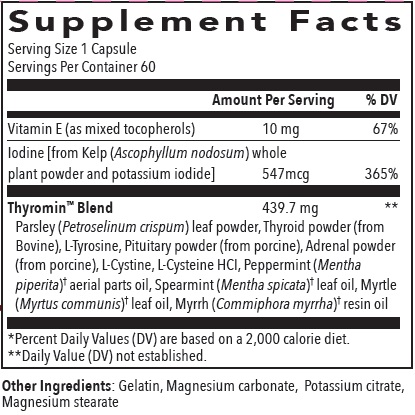 †Young Living Therapeutic Grade™ essential oil
Endoflex Vitality Oil:
Keep up with your overall wellness and day-to-day schedule with help from EndoFlex™ Vitality™. Young Living's EndoFlex Vitality essential oil uses a base of sesame seed oil and adds our proprietary blend of essential oils for wellness support.In addition to the popular Spearmint Vitality essential oil, EndoFlex Vitality oil features Sage, Geranium, Myrtle, Nutmeg, and German Chamomile to create a unique blend that may support a healthy lifestyle*. Adding this oil to your wellness regimen is as easy as combining it with a refreshing glass of juice or relaxing cup of tea.
This blend of oils supports a healthy endocrine system and it is also emotionally calming. I love the refreshing smell and invigorating taste.
EndoFlex Vitality Essential Oil Uses:
Take daily with a gel capsule. Combine 1 drop EndoFlex Vitality with 1 drop of V-6™ Vegetable Oil Complex.
Add a drop or two to 2–4 oz. of NingXia Red® for a quick shot of this blend.
Create a drink that uplifts and invigorates by adding EndoFlex to our sparkling NingXia Zyng™. Use this essential oil-infused beverage to jump-start the day or make it through the afternoon slump.
Combine a drop of oil with a large cup of warm tea or tall glass of water. If you find a drop overwhelms the flavor, dip a toothpick in the oil and swirl it in your drink.
Young Living also make a regular blend of Endo-flex for topical use.
How to use:
Dietary supplement, follow directions on label
En-R-Gee Essential Oil Blend:
En-R-Gee™ is a revitalizing blend of pure Rosemary, Juniper, Lemongrass, and other essential oils that has an uplifting and energizing aroma. Ingredients:
Rosemary (Rosmarinus officinalis), juniper (Juniperus osteosperma and J. scopulorum), lemongrass (Cymbopogon flexuosus), nutmeg (Myristica fragrans), Idaho balsam fir (Abies balsamea), clove (Syzygium aromaticum), and black pepper (Piper nigrum).
How to use:
Dilute with coconut oil
Apply several drops (2-4) to vita flex points
Directly inhale from hands
Diffuse in an ultrasonic diffuser
Myrrh Essential Oil:
Myrrh is a tree resin that has been used and valued since ancient times for it's rejuvenating, cosmetic, aromatic and spiritual applications. In Christianity, gold, frankincense and myrrh were the gifts given to baby Jesus by the three wise men. Myrrh is a very spiritual oil that has been used in religious ceremonies and rituals for over 5000 years.
Myrrh helps overcome fear and release difficult past experiences that can influence wellness. It can help change negative feelings we have about ourselves that can be a challenge to the immune system. It is an important ingredient in Thyromin and Endoflex oil. Order here
Apply several drops (2-4) to vita flex points
Directly inhale
Diffuse in diffuser
Grapefruit (Citrus paradisi) Vitality™ is known for its invigorating citrus scent and delicious, tart taste. Grapefruit Vitality essential oil can also support weight-management programs when taken internally and paired with a healthy diet and exercise.* Add Grapefruit Vitality oil to water to give your drinks a little zing, or add a hint of citrus by incorporating it into culinary recipes. Give NingXia Red® an extra boost of flavor with a couple drops of Grapefruit Vitality.Can't get enough of the tangy grapefruit flavor and scent? Slique® Essence essential oil blend and our Power Meal™ meal replacement both include Grapefruit Vitality oil as a key ingredient.
Grapefruit Vitality Essential Oil Uses:
Support your weight-management program by taking Grapefruit Vitality as a dietary supplement. Just add 1–2 drops to a vegetarian gel capsule and take it daily or as often as needed.
Find it difficult to take capsules? Blend Grapefruit Vitality NingXia Red for an added boost of wolfberry goodness.
If you love infused water but are too busy to make it the night before, simply add 2–3 drops of Grapefruit Vitality and other citrus Vitality oils to cold water to make a refreshing drink and stay hydrated.
Add it to culinary recipes to add a distinct, citrus flavor. Grapefruit Vitality tastes great in desserts, marinades, and salad dressings. Order here
Ingredients
Grapefruit (Citrus paradisi)† rind oil
†100% pure, therapeutic-grade essential oil
I hope this article has been helpful and I would love for you to join me on the essential oils journey because I want to help you discover all the benefits you can gain from them for thyroid health. Sign up for my 14 day essential oils e-course here.
Remember I only recommend Young Living Essential Oils because they own their own farms and distilleries for the utmost purity and quality. The best deal is to get the premium starter kit which has the diffuser and 11 of the mostpopular everyday oils. When someone chooses a premium starter kit they become a wholesale member and save 24% off all future orders. Order here
You can add any or all of these thyroid support oils to your order and save by becoming a member with no further obligation. Order here
If you have questions just email me at caitlin AT grassfedgirl.com for a prompt reply. I can also add you to my private oils facebook group. Order here
Be sure to pin it: